Emailing Invoices to Multiple Customers
You are able to send invoices to multiple customers at once at The Customer Factor.
Please visit the "Invoices" tab, go down and click "Search" or simply follow this link: Search
To search for unpaid invoices, you just have to tick the "Unpaid invoices" radio button. This will open categories for doing your search. Just click on your preferred search option and type the name in the search bar if you wish to search for a particular individual and click "Search" button.
You may also do a search by date, but if you wish to display all the unpaid invoices at once, leave all the filters blank and click "Search"
Important Note: By default, only 300 invoices will display initially. If you have more, then you have to click the "view all" link and it will load all the unpaid invoices all in one screen. You can then tick the "Check all" box to select all.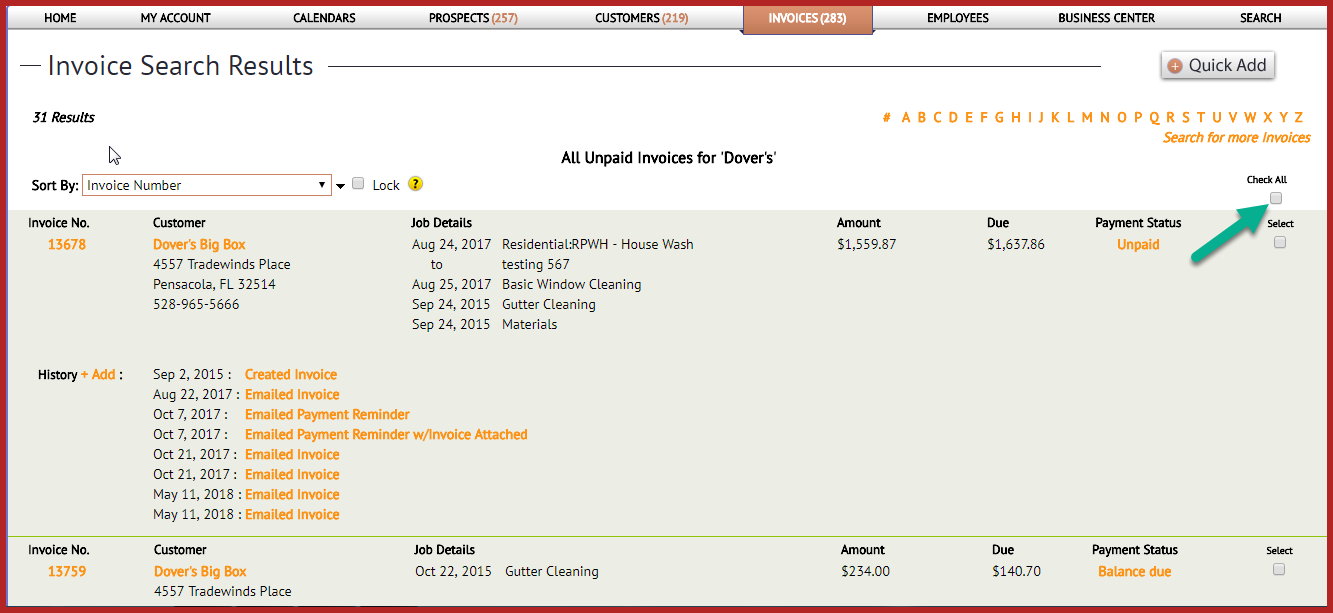 If you don't want to send all, you may just select individual invoices that you want to email if that is what you prefer. Just look for the particular invoice on the list and tick the box on the right as shown:
Once you have marked the invoices, scroll down and click "Email Invoices" button at bottom of the page.

The "Add Email" window will pop up, where you will be asked to enter email address for customers. Just enter the email address if you have it for the customer and once done, click "Save". However, if you want to do it later, you can just click the "Skip" button to continue.
Then, the "Email Invoices" window will open up where you can create a new email or simply choose the template that are ready to be used. Just select the template that you wish to use, review the email content and if you want to go ahead and send it out, scroll down and click the "Send Email" button.
However, if you prefer to create a new email to personalize your message, you can definitely make a new one by clicking the "email settings" link where you can create a new email and send it out or save it as one of your template for future use.
Once you are done creating the email, you can preview the email and simply click the "Send Email" button to send out. That's it.
Best regards,