Custom Email Setup
In The Customer Factor, you can set up your own email address as a custom email which has plenty of advantages. So hover over "My Account", scroll over "Email Options", and then click on "Custom Email Setup", or you can visit the custom email setup screen directly.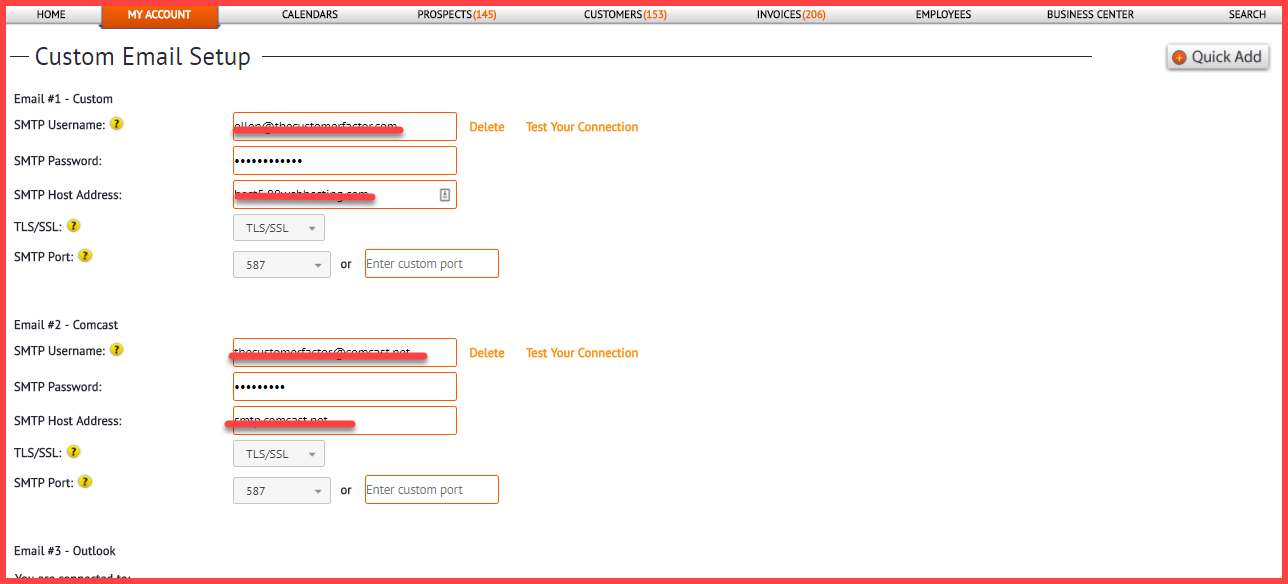 There are 3 big advantages to setting up your email address(es) as "custom":
1) It'll reduce undeliverable/bounced emails because instead of sending through a commercial email provider you are emailing through your own email address. Commercial email can be considered spam and can be blocked from time to time. Even though we use a high-quality commercial email provider (SendGrid) the fact of the matter is that other email clients and email providers know the email is coming from a commercial email provider. So some email clients/providers such as AOL, Comcast, and a few others, along with providers used by companies can equate commercial email with spam which means the email may not reach the recipient. So setting up custom email allows you to have the best of both worlds; the ease of emailing from within The Customer Factor w/o worrying about whether the person you're sending the email to will receive it.
2) The "from" email address that appears in every email you send will be whatever email address you specifically set up. Prior to this custom email feature being released the "from" email address was mail@thecustomerfactor.com which may on occasion lead to confusion with your prospects/customers not really recognizing that email address.
3) If you're setting up Gmail or Outlook/Hotmail, then all email sent will end up in your "Sent" folder. So you'll have a nice record of everything sent. Of course, you can also access an email history area in each prospect or customer profile screen and you can always send a bcc email to yourself (recommended at least for estimates and invoices) but this gives you an additional way to go back and see what was sent since it's in your own "sent" folder. Again, this is only when setting up Gmail and Outlook/Hotmail. It's not possible to route emails through your "Sent" folder if you're setting up an email address like bubba@mywebsite.com on the custom email screen.
Let's look at each of the 4 custom emails you can set up...
GOOGLE/GMAIL:
Select Google/Gmail in the email provider dropdown.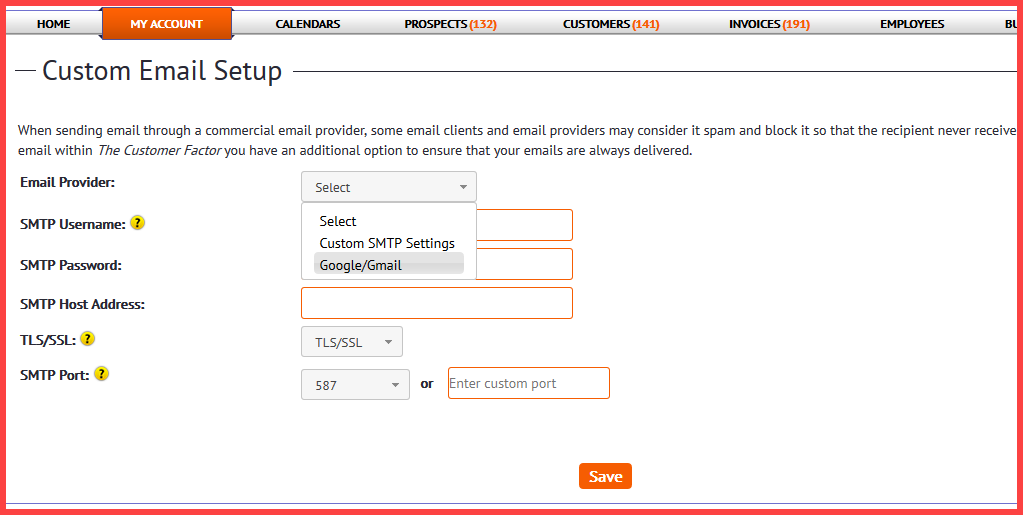 A button will appear which you can click on. Click "Authenticate With Gmail". And it will take you to Google.

Make sure you're signed into the correct Gmail account and then click allow. This will then allow CF to reroute all email through your Gmail account when you send email from The Customer Factor.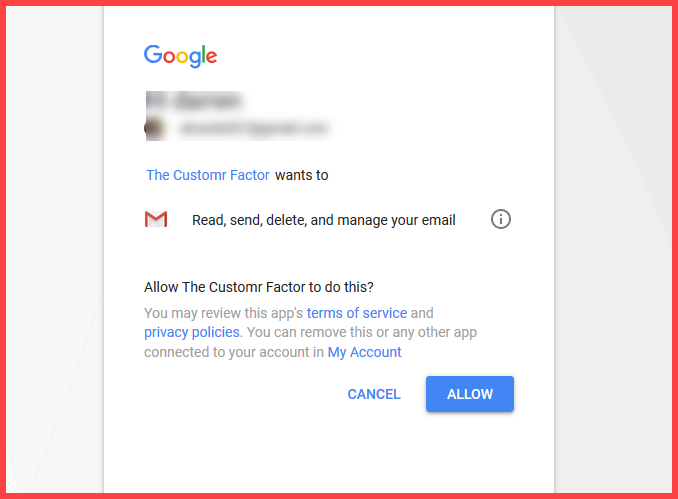 After you click "allow", you will get this page, showing that your Gmail account is now set up. You can disconnect/delete it at any time.

CUSTOM STMP:
The second option is Custom STMP Setting. Select that dropdown and enter all the information. The "SMTP username" is your email address and the "SMTP password" is the password for your email address. The TLS/SSL can be left as it is and the SMTP port will typically be 587 so that should be fine also.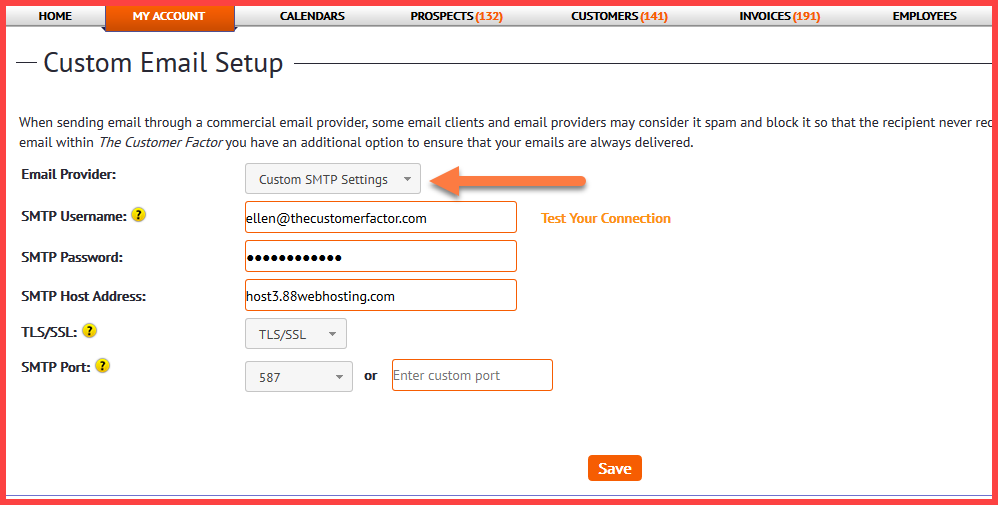 Then click "Test Your Connection" to confirm that your connection is fine.
Click "Save" and you're done.
OUTLOOK/HOTMAIL:
Setting up an Outlook or Hotmail email address is exactly the same as setting up a custom Gmail email address. Select "Outlook/Hotmail" in the dropdown and you'll see an "Authenticate with Hotmail" button.
Click the "Authenticate with Hotmail" button, log into your outlook/Hotmail account, and allow The Customer Factor to communicate with your Outlook/Hotmail email address and you're good to go. Similar to Gmail, any email sent from The Customer Factor that goes through your Outlook/Hotmail email address will end up in your "sent" folder.
COMCAST:
For those of you who have a Comcast email address, you can select "Comcast" from the dropdown.
Insert all your details above like your email address and your email address password. The TLS/SSL dropdown can stay like it is and the port will work fine. If not, then you can try 465 or 25. Then click "Save".
If you have any problems setting it up, make sure to check your password. It typically boils down to two issues if it doesn't work; password or host address. The bottom line is that you will be able to click the "Test Connection" link and see a successful response 100% of the time if the information being inserted on the custom email screen is correct.
All the best,